CODE-CWA Press & Updates
YouTube Music members of the Alphabet Workers Union launch 1-day strike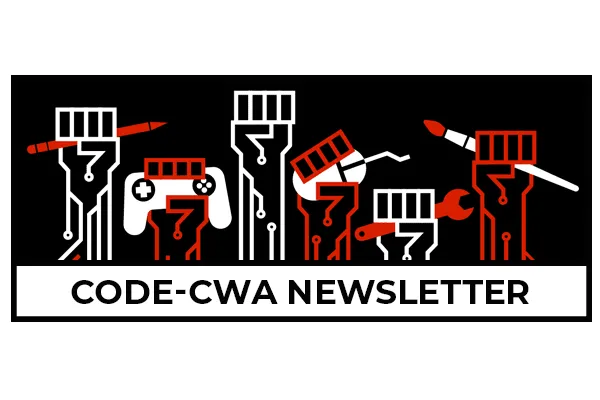 YouTube Music employees and members of Alphabet Worker Union launch a 1-day strike
Google is ignoring the NLRB and breaking labor law by refusing to bargain with unionized workers at YouTube music. That's why AWU members at YouTube launched a 1 day ULP strike to tell Google that they won't be ignored.
Workers make the many divisions of Google run – not the corporate executives and CEOs. By embarking on a strike, YouTube Music employees demonstrated exactly that. When workers join together and recognize their power at work, anything is possible. 

Join the growing movement of digital, tech and game workers who are joining together to build and exercise their power with CODE-CWA! Learn more.
UAW announces significant expansion of strike at General Motors and Stellantis
The United Auto Workers union has expanded its strike to include GM and Stellantis' 38 parts and distribution centers across 20 states. UAW reported progress in negotiations with Ford and therefore did not expand the number of Ford employees on the picket line.
The strike began on September 15 at only three of the companies' U.S.-based 25 assembly plants, totalling about 12,700 of the 145,000 workers. With the strike expansion, an additional 5,625 UAW members join their coworkers on the picket line, totalling about 18,300 UAW members on strike ranging coast to coast. Read more on CNN
WGA and AMPTP reach historic tentative agreement
After 146 days on strike, members of the Writers Guild of America and the Alliance of Motion Picture and Television Producers have finally won a historic contract agreement. This enduring fight shows us that when we fight, we win! Read more about the tentative agreement here
A win for Google Help workers
In a recent ruling, the National Labor Relations Board agrees that Google and Accenture are in fact joint employers of Google Help members of the Alphabet Workers Union. If Google Help employees win their union election in November, Google will have to join Accenture at the bargaining table despite trying to avoid its responsibility to do so. Read AWU's full statement here
Workers at Omega Mart win union
Over 160 Omega Mart employees are officially joining the Meow Wolf Workers Collective, CWA Local 7055! Next up: electing a bargaining committee and surveying workers on the issues. Stay up to date on the fight at Meow Wolf on Twitter
Interested in tech job openings?
Are you located in Chicago, Los Angeles or the Bay Area? Are you interested in tech job openings?
Respond to this email to learn more!
September 30, 1962 – Cesar Chavez and Dolores Huerta found the National Farm Workers Association, which later becomes the United Farm Workers of America.
October 3, 1961 – The United Auto Workers calls for a company-wide strike against Ford Motor Co., the first since Ford's initial contract with the union 20 years earlier.
October 6, 1995 – Thirty-two thousand machinists begin what is to be a successful 69-day strike against the Boeing Co. The eventual settlement brought improvements that averaged an estimated $19,200 in wages and benefits over four years and safeguards against job cutbacks.
Working late to pay the rent
Might lead you to a early death
I guess this why they call this thing a grave yard shift
We, came to America to take that work
Immigrants that were willing to dig hands in dirt
Now the children are her
Out off east Willcher'
Recording raps in the hotel cuz' one of the owners
Of the restaurant is built upon an immigrant earn
But I got work in a few, might have to shorten my verse
Text CODE to 49484 to Join Our Text List
You will receive CWA news & info. Recurring messages. Message & data rates may apply.
Terms & Conditions: cwa.org/sms-terms. Privacy Policy: cwa.org/privacy.

Communications Workers of America, AFL-CIO, CLC.
The fight for dignity at work is advancing
YouTube Music members of the Alphabet Workers Union launch 1-day strike
TCGUnion-CWA members hit the bargaining table