CODE-CWA Press & Updates
TCGUnion-CWA members hit the bargaining table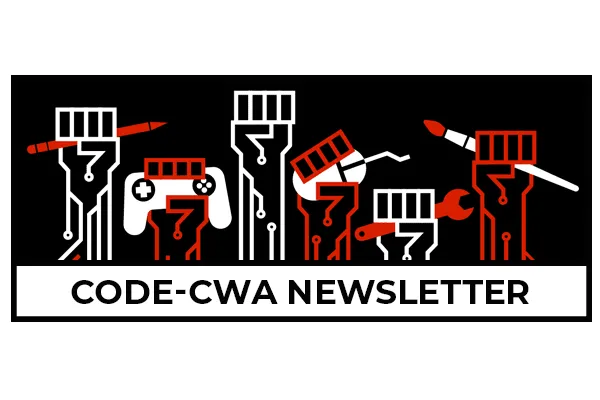 TCGUnion-CWA members hit the bargaining table
After months of delays and union-busting tactics from the company, TCGUnion-CWA members are officially bargaining for their first union contract! 
TCGUnion-CWA is bargaining for fairness, dignity, job security and a seat at the table. Employees haven't received a raise in 2 years, and many live paycheck to paycheck. "We love our jobs. We need them to be stable so our lives can be stable,"TCGUnion-CWA posted on Twitter."We will continue to holdEbay and Littler to their obligation to bargain in good faith on the issues that matter most to us."
As members of TCGUnion-CWA bargain for stronger workplace protections and better benefits, we should all stand in solidarity with their fight. All workers deserve a voice at work, and have a right to organize and bargain for improvements on the job.
Are you interested in getting involved in the growing movement of digital, tech and game workers joining together to fight for a voice at work? Get involved with CODE-CWA!
UAW workers launch unprecedented strike against all Big Three automakers
Today, the United Auto Workers union officially went on strike against General Motors, Ford and Stellantis, marking the first time in the union's history that it has struck all three of America's unionized automakers at once.
Early this morning, workers walked out of three plants – one each from the Big Three – in Missouri, Michigan and Ohio. Picketers were met with wide support and cheers from union and community members.
The strike comes after the automakers scoffed at UAW's demands for increased wages, benefits and job protections for members. With all three automakers reporting record or near-record profits, the union is seeking to recapture many benefits they had been forced to give up for more than a decade. Read more on CNN
CODE-CWA Member Brings Worker Voice to Senate AI Forum
This week, Ed Stackhouse, a Google rater and member of the Alphabet Workers Union (AWU-CWA Local 9009) traveled to Washington, D.C., to share his experiences working to train, test and evaluate Google's search and AI platforms. Watch Stackhouse speak from the event here
MissionWired Workers United win voluntary recognition
Workers at one of the largest and most prominent digital direct marketing firms in progressive politics are now officially union. The union, which includes digital, tech, creative, editorial and operational workers, believe in building a more sustainable, transparent and equitable workplace. Follow MissionWired Workers United on Twitter
Grindr's Return-to-Office Ultimatum Has Gutted a Uniquely Queer Space in Tech
Last week, CWA filed an additional Unfair Labor Practice charge against Grindr management on behalf of the members of Grindr United-CWA. Two weeks after Grindr workers announced they are forming a union, bosses ordered employees back to the office. Read more on Wired
Sign and share the petition in support of Grindr United-CWA members!
Interested in tech job openings?
Are you located in Chicago, Los Angeles or the Bay Area? Are you interested in tech job openings?
Respond to this email to learn more!
September 17, 2011 – The Occupy Wall Street Movement is launched by an anti-Wall Street march and demonstration that resulted in a two-month encampment in Manhattan's Zuccotti Park. Sparking protests and movements around the world against economic inequality, corporate corruption and greed, the slogan today continues to ring loud: "We are the 99%."
Which Side Are You On by Talib Kweli
Which side are you on, boy? 
The silence is unappreciated
Which side are you on, my lord? I'mma go ahead and take that as disrespect
Which side are you on, boy? Silence is death, yes
Which side are you on, my lord? 
Get off the fence son
Get off the bench son
Which side are you on, boy? Who will stand to defend us?
Which side are you on, my lord? If you ain't with us, you against us
Text CODE to 49484 to Join Our Text List
You will receive CWA news & info. Recurring messages. Message & data rates may apply.
Terms & Conditions: cwa.org/sms-terms. Privacy Policy: cwa.org/privacy.

Communications Workers of America, AFL-CIO, CLC.
The fight for dignity at work is advancing
YouTube Music members of the Alphabet Workers Union launch 1-day strike
TCGUnion-CWA members hit the bargaining table