CODE-CWA Press & Updates
Alphabet Workers Union-CWA Conducts Largest Google Vendor Survey Revealing Google Hypocrisy & Grave Disparities Amongst Workers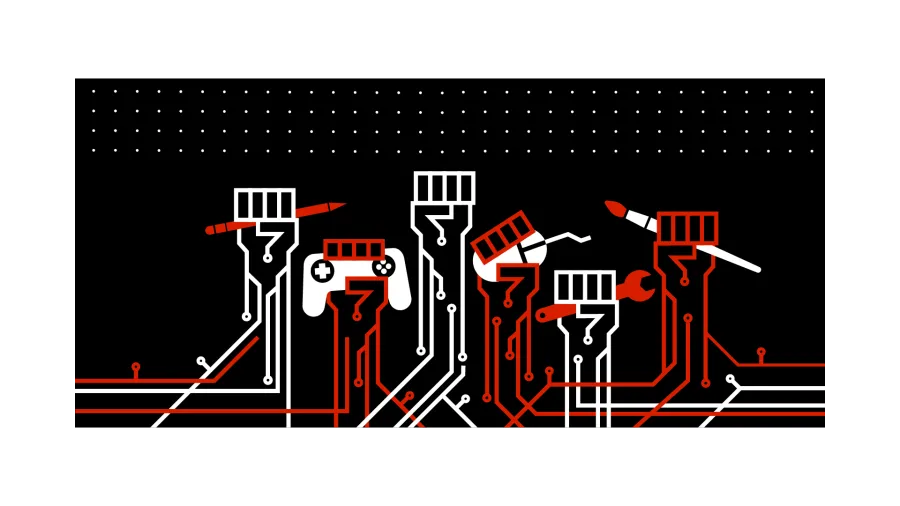 (Mountain View, CA)—Today Alphabet Workers Union-CWA published the largest and most comprehensive survey of Alphabet vendor workers in a report titled, "Every Google Worker: An Examination of Alphabet's US Shadow Workforce". The report found that thousands of workers are denied the minimum standard of benefits set by Alphabet and inequities among vendors are exacerbated by race, gender, sexual orientation, and ability resulting in thousands of dollars in wage gaps. Alphabet employs an estimated 50,000 US based vendors. These are workers who are employed via subcontractors to complete critical services for Alphabet. In 2019, Google announced a new "minimum standard of benefits" for its US "extended workforce." Today's survey results reveal these minimum standards of benefits severely fail to meet the needs of workers. 
The report findings reveal that: 
Alphabet excludes thousands of US workers from receiving the basic pay and benefit standards which Alphabet has proclaimed available to its extended workforce.

US Standards have been poorly communicated to workers or not enforced by vendor companies.

Nearly half of all vendors surveyed (46.21%) either do not report having, or are not aware that they have access to paid sick days. 

72% of vendors surveyed do not report having access to paid parental leave.

Only 10% of vendors surveyed report having access to tuition reimbursement.   

Alphabet touts its inclusivity with annual diversity and inclusion report, however non-white workers are overrepresented in lower wage and benefit vendor roles as 65% of vendors surveyed were non-white.

Non-White vendors on average make nearly 10% less than their white counterparts ($75,024 versus $82,802/year).

The disparity is even greater for Black and Latinx/Hispanic vendors, who make on average 20% less than their white counterparts ($66,056 and $62,710/year respectively).

LGBTQIA2S+ vendors at Alphabet make on average 15% less than their heterosexual coworkers ($67,660 versus $80,159/year). 

Vendors with disabilities make on average 18% less than their able-bodied coworkers ($64,105 versus $77,866/year).

Veteran vendors make on average 10% less than their non-veteran counterparts. ($70,281 versus $77,385)
"I am a data center security officer where I'm on my feet constantly, and I also have a chronic pain disorder. However I was told I was only allowed to take three unexcused days off every 90 days. Any more would result in write-ups and eventual termination. This is counter to the company's own minimum standard of benefits. However, it wasn't until my co-workers and I began to organize that we finally received the 8 days of sick leave we should have been getting from the start. Since my coworkers and I began to organize, PTO and sick days are combined, we have vacation hours, and we are aware of how to use our benefits. At one of the wealthiest companies in the world, accountability shouldn't fall on workers like me. Alphabet can and must do more to enforce their own minimum standard of benefits and ensure every worker receives the quality wages and benefits necessary to live a dignified life," said Rhys Crabtree, an Allied Universal employee and member of AWU-CWA.
In 2019, Alphabet, the Google parent company, employed an estimated 121,000 temps and contractors globally, compared with 102,000 full time workers. In early 2022 nearly 26,000 of the estimated 50,000 US-based vendors were surveyed by members of Alphabet Workers Union-CWA via their corporate emails. Exactly 1,853 workers employed directly by 248 vendor companies responded to AWU-CWA's survey, making this the largest and most comprehensive survey of Alphabet vendor workers in history.
Vendors of all wage levels report to have significant work issues including lack of job security, excessive isolation, undefined career ladders, poor work life balance, fair compensation and benefits for their work, and lack of a meaningful voice in decisions that impact their jobs.
"My colleagues and I exclusively work on the Google platform and on Google products—we're critical to the success of YouTube Music. Yet, even though we receive Alphabet's minimum standard of pay and benefits, my colleagues and I still need to juggle multiple jobs to make rent each month. When we try to make requests for better pay and clearer policies, we're told by our employer that their hands are tied thanks to Google. Google tries to evade their responsibility to workers like me, but the truth is they have the power and the resources to establish and enforce minimum standards that ensure all workers receive their fair share," said Sam Regan, YouTube Music contract worker with Cognizant and member of AWU-CWA. 
"When AWU-CWA launched, we made a commitment to organize every Google worker—both full time and temporary, vendor and contract workers. This survey provides the data to support the disturbing trends we've heard from hundreds of contract workers. Google messages itself as a good employer, but thinks nothing of laying off 12,000 employees overnight or barring workers from qualifying for the company's own minimum standard of benefits. Time and time again we've heard from workers who are barred from receiving Google's cited $15.00 minimum or are told they can't take a sick day—even if they should be able to per Google's own policy. Our report makes clear that Google is not doing enough to establish and enforce an ethical baseline of working conditions for all workers," said Parul Koul, Google Software Engineer and Executive Chair of AWU-CWA. 
As part of AWU-CWA's ongoing commitment to fight for every Google worker, workers have organized actions nationwide to call on Google to do right by their workers. On Wednesday, February 1, 2023 dozens of Alphabet workers, called "raters" delivered a petition to Senior Vice President Prabhakar Raghavanan office at Google's Corporate Headquarters in Mountain View, CA. The petition calls for Alphabet to end the exclusion of raters from Google's own minimum standards and benefits that the company has set for its extended workforce. On Thursday, February 2, 2023 workers held an action following the Google Q4 2022 earnings call decrying the company's decision to lay off 12,000 workers. Finally, a group of YouTube Music workers have been on an Unfair Labor Practice strike since Friday, February 3, 2023 demanding that Google and Cognizant end their retaliatory return to office mandate. 
###
Alphabet Workers Union - CWA unites full-time employees, temporary employees, vendors, and contractors at Google and other Alphabet companies in the United States and Canada in collective action to ensure that our workplace is equitable and that Alphabet acts ethically. We are members of Communications Workers of America Local 1400 and currently represent over 1,300 workers across Alphabet. Learn more at alphabetworkersunion.orgor follow us at @AlphabetWorkers.
The fight for dignity at work is advancing
YouTube Music members of the Alphabet Workers Union launch 1-day strike
TCGUnion-CWA members hit the bargaining table